General Dentistry in Westbury
---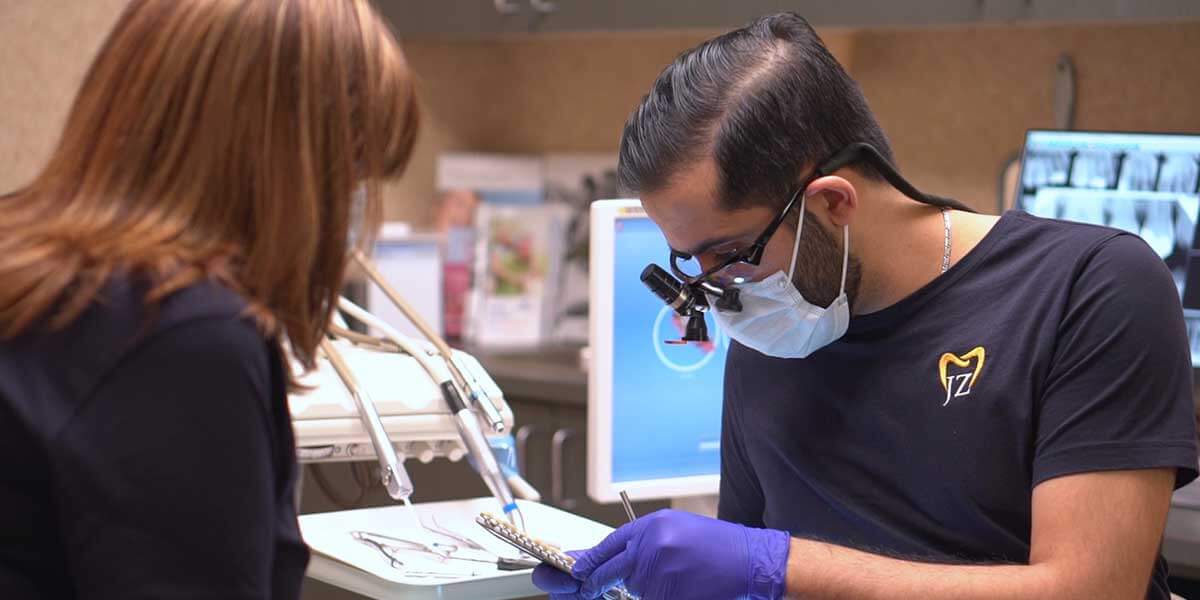 JM Dental of Westbury provides general and family dentistry in Westbury, New York. Call 516-334-3444 or contact us today to learn more and schedule an appointment.
---
What Is General and Family Dentistry?
---
General dentistry is the overall term for the standard services offered by dental practices. Family dentistry refers to dental practices that see patients of a wide variety of ages in one office. From dental cleanings to cavity fillings and more, our general dentistry services are available to families so that everyone in the household can receive dental care at one convenient location. 
---
Benefits of General and Family Dentistry
---
General and family dentistry offer many benefits: 
Improves your dental health.

Many general dentistry procedures are restorative, meaning they repair damage and restore the health of your teeth. 
Prevents tooth decay and gum disease.

Regular dental cleanings remove plaque from your teeth to prevent tooth decay and gum disease from developing. 
Detects oral health problems early.

Oral examinations every 6 months allows your dentist to detect any oral health problems that may be present. Catching them in the early stages improves the outcome of treatment. 

Convenient.

A family dental practice allows you to make one appointment at the same location for the whole family to get their teeth cleaned twice a year. It makes filing insurance more convenient as well. 
---
We provide the following general dentistry services: 
Comprehensive oral examination.

A thorough examination should be performed of the mouth, jaw, and neck every 6 months. Once a year digital X-Rays should be taken to detect tooth decay and any abnormalities. 
Dental cleaning.

Your teeth should be professionally cleaned every 6 months to remove plaque that is left behind after brushing and flossing at home. 
Root canal treatment.

At the center of each tooth is a soft tissue called dental pulp that contains blood vessels and nerves that sustain the tooth. The pulp can become infected and require root canal treatment. 
Scaling and root planing.

When plaque is not removed from the teeth by brushing and regular dental cleanings, it hardens into calculus that is more difficult to remove. It also settles under the gums, which can cause gum disease. Scaling removes calculus from under the gums and root planing smooths out the root surface to treat and prevent gum disease. 
Custom mouthguards.

Protecting your teeth from damage is an important part of maintaining your dental health. We create custom mouthguards for sports and to prevent teeth grinding at night. 
Extractions.

Teeth may need to be extracted (removed) for a variety of reasons from severe decay and damage to orthodontic purposes. We provide extractions when needed. 
---
We provide a family friendly environment that is welcoming and appropriate for patients of all ages. Rather than taking your children to a separate pediatric dentist, you can bring the whole family here for your convenience. We provide a full range of dental services for patients of all ages from infants to older adults. 
It is our goal to make your experience comfortable and relaxing. Our modern office is equipped with the latest technology that improves diagnostics and makes procedures less invasive so that we can provide your family with the highest quality dental care.
---
Frequently Asked Questions About General Dentistry
---
Why is professional teeth cleaning recommended every 6 months?
---
While there is not a one-size-fits-all schedule for teeth cleaning, every 6 months is ideal for the average patient to have plaque removed before it becomes a problem.
Does insurance cover general and family dentistry?
---
Most dental insurance plans cover general and family dentistry procedures. Most plans completely cover dental cleanings and oral exams every 6 months and a certain percentage of other procedures.
How often should I brush and floss my teeth?
---
We recommend brushing your teeth at least twice a day and flossing once a day. If you are prone to decay or gum disease, you may need to brush and floss more often, such as after each meal.
How can I stop grinding my teeth?
---
Teeth grinding is a common habit. Many people aren't even aware of it because they grind their teeth in their sleep. A custom mouthguard can be made for you to wear at night to prevent damage to your teeth from grinding.
What is a root canal?
---
A root canal is the procedure named for the part of the tooth that it treats. The root canal is the inner chamber of the tooth that extends into the roots and contains soft tissue called dental pulp. When the pulp becomes infected or is at risk of infection, a root canal procedure is done to remove the pulp, clean out the tooth, and fill it with artificial tooth material to keep infection out.
---
Contact Us
---
---